First up, because it would be cruel to make you wait, I would like to announce that the winner of the Wellington Pattern Pyramid , chosen by the incredibly scientific method of counting from one to seventeen over and over until my daughter yells 'Stop', is number ten, Anneke of Annette Tirette.  She has made the most gorgeous Saltspring dress recently and her Walk in the Park dress is amazing, so I can't wait to see what she chooses.
Congratulations Anneke!  Email me your address and I'll stick it in the post for you.
Right, plans.
Before I get started I reserve the right to make all, some or none of the ideas below. I will also allow myself to ignore all plans if inspiration strikes or anyone releases new gorgeous patterns that I have to make immediately.
I will try to sew from my stash because I am skint, saving for Christmas and running out of storage space. This means that sticking to any particular colour scheme will be tricky.  And I am going to try and sew along with Rhinestones and Telephones Fall Essentials Sew Along. So here goes:
Fashionable Foundations for Frosty Weather
For me this is mostly skirts. Preferably skirts I can wear over leggings with my biker boots.  I am very tempted by the pleated version of Zinnia, or should I just go for Deer and Doe's Chardon? I also have the Kelly skirt and the Grainline Moss on my list.  I have some bright red gaberdine that I bought at the London Meet Up that would be perfect for one of them, and would give the added bonus of being my Red October make.
Chic Chemises for Cool Climates
In my 'to make queue' already are the Scout Woven tee and after seeing Wanett and Lizzy's versions the Dandelion top.  As the knits box is by far the heaviest one in my stash I may also try and use this tutorial to adapt the Scout for knits. 

Fabulous Frocks
Pheww!  I was starting to bore myself with all those sensible ideas above. I have already made my first FESA dress, Disparate Disciplines Dandelion in a very sensible fabric. I couldn't resist pre-ordering the Emery dress by Christina Haynes, because… well look at it:
I have also got the Pauline Alice Cami dress in my queue because I have the perfect buttons courtesy of Fiona Diary of a Chain Stitcher, I just need to decide on the fabric.  I also need cold weather Annas, (have you seen Jo's – it's gorgeous!) a Hawthorn and probably another Laurel in neutral-ish colours.  And I have the fabric for another Tiramisu and a Miz Mozelle.
Underneath It All
I have the Merckwaerdigh Bra and Pants/knickers pattern .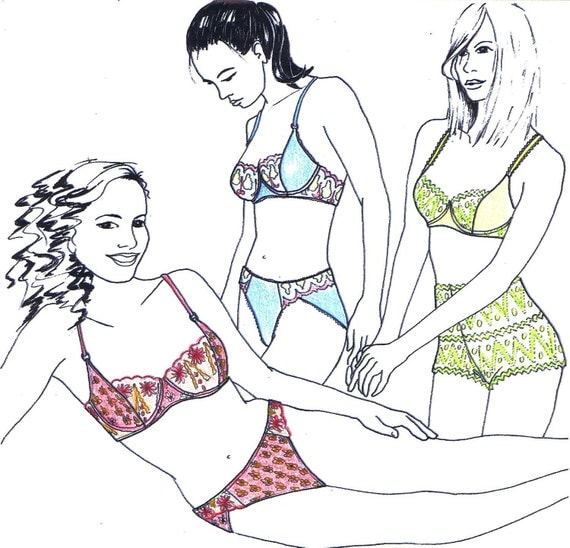 Okay, the illustration is not very convincing so do check out a Very Purple Person's gorgeous versions.   Before buying it I was planning on making a decent fitting bra from my bodice block. However I haven't got round to making a single garment or blogging about it since I made it, and looking at all those dresses I want to make it may not get done. Likewise pants (knickers). I want to make some but they are not exactly a priority. Maybe if I get struck down with a contagious but non-painful or dangerous illness that means I can't go to work for the next eight weeks…
Those Cozy Nights
I have pyjama fabric. It has pandas on. I have the one hour pants pattern. One Hour Panda Pyjama Pants?
Baby It's Cold Outside
Last year I got Gertie's coat pattern and fabric to make it, but never got round to it. I may do it this year but I am a little worried that it will swamp me – there is a lot of fabric there. I also did a muslin of Colette's Anise last year, so I may make it up. What I really want is something like the Jamie Christina Abbey Coat in leopard print, but that would involve fabric shopping….
As an antidote to all that sensible sewing that may or may not get done I also want to take part in Red October. I have a UFO that will probably fit the bill. Actually I still have a lot of UFOs so I am going to try and alternate new makes with finishing stuff that I have already started.
So how does that sound? Over ambitious, I know, particularly as work has gone ballistic and I haven't managed any actual sewing for a couple of weeks now. Things should start to calm down soon though, and then I will get cracking.